Dental Implants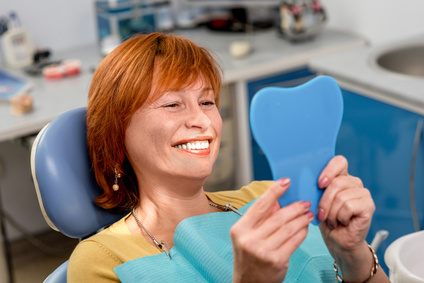 ---
What is a dental implant?
A dental implant is a small "anchor" made of titanium. It is inserted into the jawbone to take the place of your missing tooth root. After Osseointegration, or when the surrounding bone has attached to the implant, a replacement tooth is secured to the top of the implant. The new tooth looks, feels, and performs just like your natural teeth.
Dental implants can be used in a variety of situations, whether you need to replace a single missing tooth or many teeth. They can even be used to replace a full denture. As anchor points, implants can also securely attach a partial denture or bridge.
What are the benefits to dental implants?
More healthful and beautiful appearance: When teeth are missing, the surrounding jaw bone begins to shrink. This unhealthy bone loss can make your jawline recede. Dental implants can help prevent deterioration of the jawbone caused by loss of teeth, so your face retains its natural shape.
Protect your healthy teeth: as an alternative to bridgework, dental implants eliminate the need to grind down healthy teeth when replacing one or more adjacent teeth.
No Cavities: Dental implants do not get cavities and are long lasting. Dental implants can last your entire life if properly maintained.
More comfortable: Because dental implants are securely anchored, there is no slipping or movement as there is with dentures. This eliminates some of the key worries of dentures, including poor fit, gum irritation, and pain from sore spots
More confident: With dental implants, you will never need to cover your mouth when laughing, smiling, or speaking. You can eat your favorite foods without pain or fear of embarrassment - and taste every bite. You will look better, feel better, and live more confidently.
These are just a few examples of how dental implants can benefit you. Please call 732-264-2888 for a complimentary consultation to see if you are a good candidate for dental implants.